Amenities at Tilden Gardens
Front Desk Service (Seven days a week)
Resident Janitorial Staff
Garage and Outside Parking Spaces
Private, Secured Storage Lockers
Security Cameras
Keyless Entry
Bicycle Storage
Free On-Site Laundry Facilities
Three Reduced-Rate Guest Apartments
Community Party Room
Seven Hobby Rooms
Verdant, Terraced Gardens
Proximity to Cleveland Park Metro, Restaurants, Shopping, Rock Creek Park, National Zoo
The Grounds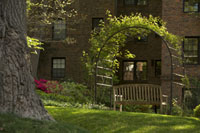 Tilden Gardens features shade trees, shrubs and flower beds as well as terraced walkways. It's hard to believe you're just two blocks from the Metro. For a gallery of garden photos, click on the image above.
Cooperative Living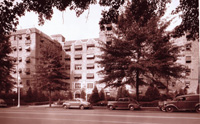 The Warren brothers' idea was for each building to incorporate as a separate cooperative, and the first two buildings followed this plan. Because of the Great Depression, however, they had to rent out units in the remaining buildings for most of the 1930s. In 1939, these combined to form Tilden Gardens, Inc. For a gallery of vintage photos of Tilden Gardens, click on the image above.

About Tilden Gardens

ince the 1930s, Tilden Gardens has enjoyed a well-deserved reputation as one of Washington, DC's finest residences. One of the "grande dames" of upper Connecticut Avenue, the six-building Cleveland Park complex offers its residents gracious living characteristic of an earlier era among landscaped gardens unrivaled elsewhere in the city, and just two blocks from the Cleveland Park Metro.

The 170 apartments at Tilden Gardens range in size from 743 square feet for the smallest one-bedroom unit to 1,714 square feet for the largest three-bedroom unit, although one unusual apartment that occupies space formerly reserved for a restaurant measures 3,500 square feet. The buildings were planned to ensure that each unit enjoys at least two exposures, and most have three. Period details include hardwood floors, arched doorways and nine-foot ceilings.

Tilden Gardens employs a general manager as well as all necessary support staff. Front desk service for the entire cooperative is available seven days a week from 7 a.m. to 11 p.m. at 3000 Tilden Street. The front desk accepts deliveries on behalf of residents and monitors access to units by service people at the request of owners. Each individual building has a resident janitor. In addition, all buildings have free, on-site laundry facilities, security cameras at entrances and keyless entry. Tilden Gardens also features on-site garage and outdoor parking spaces, a community party room and seven hobby rooms for use by shareholders, and three reduced-rate guest suites for use by their guests. In addition, there are private, secure storage areas and bicycle storage on the premises.

Tilden Gardens is owned cooperatively. Unlike a condominium association, a cooperative corporation owns the building, land, apartments and all common elements. Owners in our four buildings purchase shares in Tilden Gardens, Inc., a non-profit corporation, and in return secure the right to occupy their units and to elect members of the Board of Directors, who oversee the business, property and affairs of the corporation. Co-operative ownership provides similar tax benefits to other forms of home ownership; deductions are passed through to individual unit owners in proportion to their ownership interests.